ITALIAN SAXOPHONE QUARTET



FEDERICO MONDELCI
soprano
DAVIDE BARTELUCCI
alto
PASQUALE CESARE
tenor
MICHELE PAOLINO
baritone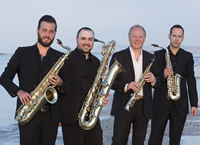 The ITALIAN SAXOPHONE QUARTET which members are Federico Mondelci (soprano saxophone), Davide Bartelucci (alto saxophone), Pasquale Cesare (tenor saxophone), Michele Paolino (baritone saxophone) brings the heritage of the glorious Italian Saxophone Quartet, founded in 1982 by Federico Mondelci.
The four musicians, close friends, determined to join together to perform chamber music for saxophone at the very highest artistic level.
Among their important projects, the quartet performed in concert series and festivals worldwide. Since 2012 the Quartet's annual tours of the United States have brought them to New York City (where they showcased at the annual Arts Presenters Conference), the Los Angeles County Museum of Art, and other venues in California, Florida, Georgia, Colorado, Oregon, Washington, Minnesota, Idaho and Alaska. Recent international activities include concerts at the Bermuda International Festival, the Alicante Festival (Spain), the Oleg Kagan Musikfest in Munich (Germany), the Palaces of St. Petersburg Chamber Music Festival (Russia), and the Al Bustan Festival in Beirut (Lebanon). Highlights of their discography include two CDs on the Delos label.

The Italian Saxophone Quartet have performed extensively, giving more than 400 concerts in the Italy, USA, Japan, Greece, Germany, France, Russia, Lebanon and Sweden. Alongside their performances in the major concert halls throughout Italy, Europe, Russia, U.S.A., the Quartet have frequently broadcast on Radio and recorded 3 CD's, including a CD on the Pentaphon label devoted to contemporary music.

During the 2004-2005 season, the Italian Saxophone Quartet continue their busy schedule with important appearances in Italy, which include several performances in Europe and USA.

Webpage: www.italiansaxquartet.it





DOWNLOADS


CROSSOVER AND MOVIE MUSIC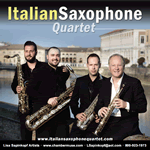 Download here mp3 demo


CLASSICAL



Download here m4a demo



PHOTOS :



Go to gallery



FLIER:



Download here


Follow ISQ on







SOME REVIEWS


L'ORIENT LE JOUR
L'intelligence des géométries musicales les plus complexes ne les a jamais conduit à une lecture purement cérébrale car leur sûreté technique leur laissait toute latitude pour imprimer aux œuvres la marque d'une sensibilitè à l'èventail très riche.

"The four saxophonist virtuosi were applauded with a standing ovation"
Wolfsburger Allgemeine

"The four musicians achieved here a sound which sounded so much better then the original instruments this music was written for. It was refreshing to hear that the music of Gabrielis was not performed with sacred "solemnity" normally associated with this composer but with the alive tempi which characterised this infectiously good concert."

Your playing of my music was wonderful . So much heart! I`ve never heard such sensitive musical playing from a quartet of four saxophones.
Joe Harnell

REPUBBLICA
...e quanto a musicalità ne hanno da vendere, e quanto a tecnica pure. Applausi nutritissimi, per noi avrebbero potuto continuare a suonare ancora e ancora.
Michelangelo Zurletti

DIE WELT
Das "Ensemble Italiano di Sassofoni" bot ein anspruchsvolles farbiges Programm, das besonders die Stilsicherheit der jungen Künstler bezüglich der Interpretation von Musik unterschiedlichster Epochen duetlich werden ließ. Die Werke im Programm wurden von den italienischen Saxophonvirtuosen geradezu hinreißend gespielt.

BERGAMO OGGI
Antonio Brena
Sostenuti da una tecnica raffinata i quattro sassofonisti pesaresi hanno saputo condurre sul filo rigoroso e convincente dell'interpretazione più genuina e spontanea un programma studiato con sapiente competenza e musicalità. Pubblico tanto sorpreso quanto soddisfatto e caloroso negli applausi.

IL MESSAGGERO
Carlo Boschi
L'Ensemble Italiano di Sassofoni ha dato prova di grande professionalità. Questo gruppo di strumentisti vanta già una notevole carriera e si pone di diritto fra i gruppi più interessanti del panorama musicale italiano, sia per l'originalità dell'organico che per l'indubbia qualità delle sue esecuzioni.

GAZZETTA DEL SUD
Roberto Messina
...un Ensemble perfetto ed assai spettacolare che sicuramente farà parlare di se.

IL TEMPO - Roma
Clara Falcone
...la corona della serata vada al sassofono, presentato dai giovani musicisti marchigiani, strumento solitamente degradato che si trasfigura in una nobiltà vocale, esprimendo una umanità piegata ad ogni trapasso sonoro pregna, di volta in volta di una propria voce, secondo il colore del tempo.

IL TEMPO Roma
Mostrano, ciascuno per sé, sicuro intuito e padronanza di strumento e assieme, comune tensione ed amalgama d'esecuzione.